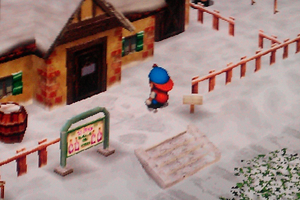 Aja Winery, also known as the "Orchard," is a location in Harvest Moon: Back to Nature.
Aja Winery is owned and operated by Duke and his wife, Manna (they also live here). It is located north of the Blacksmith (to the north of the player's Farm. Aja Winery is named after their daughter, Aja, who ran away from home years ago.
Duke is often seen in the vineyard or wine cellar, while Manna can be found in the kitchen selling their Wine and Grape juice. The Fall Wine Event takes place at the Orchard, which is crucial to Cliff staying in Mineral Town.
Shop
Manna sells Wine and Grape juice from inside their home between the hours of 9:00 am to 12:00 pm (everyday except Saturdays).
| Item | Cost |
| --- | --- |
| Wine | 300G |
| Grape juice | 200G |
Fall Wine Event
On the 14th day of Fall, Year 1, Duke will visit the player's Farm, asking for help with harvesting the Orchard's grapes. He will also mention that it's ok to bring someone else who might be looking for work. If the player asks Cliff to help at the vineyard, then Cliff will not permanently leave Mineral Town in the Winter. On the final day of the event (20th day of Fall), Duke will pay the player and hire Cliff as a permanent employee.
Community content is available under
CC-BY-SA
unless otherwise noted.