Ann is the name of two recurring characters in the Harvest Moon series.
The first Ann (アン, An or Ann) has red-orange hair in ponytail and dresses in a shirt, pants and a jacket. She works as an inventor.
The second Ann (ラン, Ran) has orange hair in braid, and dresses in a shirt and a jumper. She has a few different jobs depending on the games she appears in.
Appearances
Inventor
Farmer
Āfi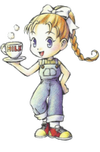 Āfi (アーフィ) is a descendant of Ann
Innkeeper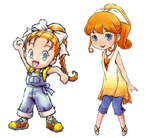 Gallery

This article is a disambiguation page - a list of articles with the same name.
Community content is available under
CC-BY-SA
unless otherwise noted.