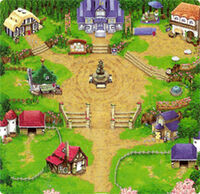 Bluebell
is a European-style town. It is more centralized than
Konohana
. Bluebell specializes in animals, though you can still grow crops on your farm. The town hall is located all the way to the north. South of the main town is the Church, where you will have your wedding if you decide to court a spouse.
Villagers
There are 15 people living in Bluebell:
Shops
Jessica's Animals [10:00am - 5:00pm | Closed Wednesdays]
Cam's Flowers [10:00am - 5:00pm | Closed Mon, Thurs, Fri]
Howard's Cafe [10:00am - 10:00pm | Closed Thurs, Festivals]
Grady's Animals [10:00am-5:00pm | Closed  Mon, Thurs, Festivals]
Diego's General Store [8:00am - 8:00pm | Closed Saturdays, Festivals]
On days where it is rainy/snowy all day or in typhoons/blizzards shops will be closed.
Town-Specific Festivals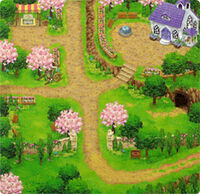 Spring Harmony Day
Animal Festival
Bare-Handed Fishing Contest
Star Gazing Festival
Pumpkin Festival
Winter Harmony Day
Starry Night Festival
Features at Player's Farm
Bee Hives
Cheese Maker
Yarn Maker
Drink Maker
Pet Playpen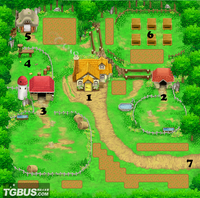 Farm Expansion
There are many different additions you can get at the beginning of each season if you are not doing one of the fixing tunnel quests. 
Extended barn and pasure (3)
Pet Playpen (4)
The Tale of Two Towns
 

Characters

Protagonists

Bachelors

Bachelorettes

Bluebell Villagers

Konohana Villagers

Others
Community content is available under
CC-BY-SA
unless otherwise noted.