Brandon
(ブランドン,
Burandon
) is a
character
in
Story of Seasons: Friends of Mineral Town
. Brandon, along with Jennifer, is first introduced in the Nintendo Switch version of
Friends of Mineral Town
.
Brandon lives with Gotts south of your farm and is seen wondering near the hot spring and lake in the morning. Eccentric yet passionate, Brandon is a renowned artist taking up residence at the Workshop. While he typically tunes out anything that doesn't spark his muse, he can't ignore a fellow lover of the arts.
Story
Event
Random Events
Brandon's Walk
Date
ー
Time
1 - 4 PM
Day
Sun/Mon/Wed/Thurs/Fri
Other

Have talked to Brandon.
Mana and Sasha are in the town square.

Weather
Clear
Location
Town Square
Participants
Brandon, Manna, Sasha
Results

 ー
Cooking for the Boys
After you've expanded your house and purchased a kitchen, try cooking anytime on Summer after 8AM. There is a chance that Brandon, Cliff, Doctor, Gray, Kai, and Rick will stop by.
Each of them have come to ask if you'll cook them something using your new kitchen. If you speak to each of the boys, they will each have a different request for what they'd like to eat: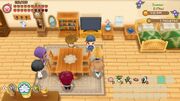 Brandon will ask for orange pastries.
Cliff will ask for mushroom rice.
Doctor will ask for mont blanc.
Gray will ask for cheesecake.
Kai will ask for quiche.
Rick will ask for strawberry milk.
Heart Events
Meeting
≥0
Day
Mon-Wed, Fri
Weather
ー
Time
1 PM - 3 PM
Location
Woodcutter's House
Other

Gotts and Brandon are in the house.

Choices

So are you visiting from Crazytown, or... (-2000)
You should be more careful. (+3000)
Friendship 1
≥5000
Day
Mon-Wed, Friday
Weather
ー
Time
1 PM - 3 PM
Location
Woodcutter's House
Other

Gotts and Brandon are in the house.

Choices

Maybe...something feline? (+3000)
Maybe...something with chains? (no effect)
Friendship 2
≥10000
Day
Mon-Wed, Fri
Weather
ー
Time
1 PM - 3 PM
Location
Woodcutter's House
Other

Brandon is in the Woodcutter's House
Have a large rucksack or a shelf
Have space in rucksack

Choices

Enchanting! Beautiful! Now THIS is art! (+3000)
I'm more interested in the artist. (-2000)
Friendship 3
≥20000
Day
Mon-Wed, Fri
Weather
ー
Time
1 PM - 3 PM
Location
Woodcutter's House
Other

Brandon's in the woodcutter's

Choices

Gotts says "get tidying, buster." (No effect)
Want me to clean up for you? (+3000)
Lover/Best Friend
| Confession | ≥30000 |
| --- | --- |
| Requirements | Give Brandon a "Preserved Flower." |
Lover/Best Friend 1
≥40000
Day
Mon - Mon-Fri, Sun
Weather
Clear
Time
11 AM to 3 PM
Location
Player's Farm
Other

ー

Choices

Talk about a deft hand! Thanks! (+3000)
So you really CAN help others. (-2000)
Lover/Best Friend 2
≥50000
Day
Mon-Fri
Weather
ー
Time
1 PM to 3 PM
Location
Woodcutter's House
Other
Choices

Something light with veggies (+3000)
Something heavy and filling. (-2000)
Proposal
≥60000
Requirements

Have a Big Bed.
Give Brandon a "Blue Feather"
Marriage/Best Friend Ceremony
Requirements
1 week after successful proposal.
Effects
+20 FP with ceremony participants
Immediately after the marriage or best friend ceremony, you will be asked what you want Brandon to call you.
Gifts
Gift Preferences
Special
"Thanks. I accept. 「…ありがとう。もらっておく。」"
Dorayaki, Matsutake
Loved
":...Thanks, [player]. You really know my taste."
Apple, Butter, Carrot, Cheese [Any size], Cucumber, Curry Powder, Egg benedict, Flour, Golden egg, Good quality Egg, grilled apple, Honey, Ketchup, Mandarin orange, Mashed potatoes, Neapolitan, Normal Quality Egg, Oil, Onion, Orange peel, Orangette, Platinum Egg, Potato, Pretty Good Quality Egg, Pumpkin, Pumpkin potage, Quiche, Red Beans, Relax tea leaves, Sweet potato, Tangerine bread, X Egg
Liked
":So, your giving me this? Thanks."
Ancient fish fossil, Apple pie, Baumkuchen, Bibimbap, Bodijizer, Bodijizer XL, Branch/Twig, Buckwheat Flour, Cake, Carpaccio, Chocolate, Chocolate Cookie, Coffee Milk [Any size], Fish fritters, Fruit Juice, Fruit Milk [Any size], Grape Juice, Ice-cream, Large Fish, Medium Fish, Milk [Any size], Miso soup, Mix-o-re, Mixed juice, Mountain grape water, Nasi goreng, Omelette rice, Paella, Pancake, Pirate Treasure, Pudding, Raisin Bread, Relax tea, Salad, Sandwich, Sashimi rice bowl, Shark Fin Soup, Strawberry Cake, Strawberry Milk [Any size], Sushi, Sweet potato, Tempura Soba, Tempura Udon, Turbojolt, Turbojolt XL, Vegetable juice, Wine, wood, Zaru Soba
Neutral
"ありがとう。"
All other items not listed
Disliked
"………。"
Adamantite, Agate, Alexandrite, Alpaca Wool [Any size], Amethyst, Angora Rabbit Wool [Any size], Aquamarine, Baked corn, Ball, Bracelet, Brooch, Chicken/Rabbit Feed, Copper, Dango Flour, Diamonds, Dress, Earring, Elli Grass, Emerald, Face Mask, Fluorite, Fodder, Garnet, Gold, Jade, Lettered Pin, Lotion, Material stone, Moonstone, Mythril, Necklace, Orichalcum, Period, Pet Snack, Philosopher's Stone, Pink Diamond, Ruby, Sandrose, Sapphire, Scrap Ore, Silver, Stone, Sun Block, The mysterious slate, Topaz, Turquoise, Weed, Wool [Any size], Yarn G, Yarn L, Yarn M, Yarn P, Yarn S, Yarn X, Yellow Grass
Hated
"What's this? I don't need this..."
Boots, Empty Can, Fish bone, Golden Material, Poison Mushroom, Red grass
Schedule
AM
PM
AM
6
7
8
9
10
11
12
1
2
3
4
5
6
7
8
10
11
12
Single
M-Sat
W's H
Lakeside
Woodcutter's House
Sun
W's
Lakeside
Secret Forest
Mountain Summit
Woodcutter's House
Rain/Snow
Woodcutter's House
Married
M-Sat
2
Woodcutter's House
Lakeside
Woodcutter's House
Home
M-Sat (Rain/Snow)
2
Woodcutter's House
Home
Sun
2
Lakeside
Secret Forest
Home
Sun (Rain/Snow)
Home
References
Community content is available under
CC-BY-SA
unless otherwise noted.