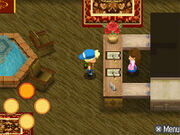 This article is about Carol, a character from Sunshine Islands. You may be looking for the flower shop owner who shares the name Carol.
Carol runs the inn on Sprout Island. The business has been in her family since her grandfather started it, and now Carol takes care of the customers who come to stay on the island. To earn the Sun Stone from Carol, you need to give her cooked recipes.
Gifts
Gift Preferences
| | |
| --- | --- |
| Special | Mixed Rice |
| Loved | Colored Books (All), Bodigizer XL, Boiled Tofu, Carpaccio, Chazuke, Chocolate Cookies, Cold Tofu, Dairy Natto, Deep Fried Tofu, Elli Leaves, Finest Curry, Fish Natto, Fried Noodles, Fried Thick Noodles, Freeze Dried Tofu, Fried Tofu Dumpling, Gem Natto, Hungerizer XL, Indigo Book, Marinated Fish, Miso Eggplant, Mix Natto, Mochi Mix Natto, Pizza, Poseidon Bowl, Rainbow Curry, Red Flower Mix Natto, Sandwich, Sangria, Sashimi Bowl, Soybean Rice Candy, Sushi, Sweet and Sunny, Tempura Noodles, Tempura Rice, Tempura Soba, Toasted Rice Balls, Tofu Steak, Tofu Sushi, Trifle, Ultimate Curry, Yggdra Soup |
| Liked | ALL cooking recipes not listed above. |
| Horror | Failed Dish |
Quotes
"Hello. I'm the Innkeeper, Carol. Nice to meet you."
Day after a blizzard: "Welcome, ___. Did you make it through yesterday's blizzard okay?"
When giving a Sun Stone: "Oh, ____. You came at just the right time. This came out of that fountain earlier. I couldn't believe it, but... isn't this one of those Sun Stones you're looking for? If you'd like, please take it with you."
When giving a Sun Stone: "Oh, by the way, I came across this when I was cleaning the other day... I think it's one of the stones you're looking for, ____. Please take it if you'd like."
When shown your dog/cat: "How cute! I'd love to keep one at my inn too."
When shown the Blue Feather: "That's a beautiful feather. I hope someone proposes to me someday."
"I really like this! Thank you, ____!"
Declines Gift: "I'm sorry. I can't accept this."
1-2 Hearts: "This inn's been in my family since my grandpa started it."
3-4 Hearts: "I like to cook, especially when I can whip up some new stuff for my guests."
Trivia
If you have 7 hearts with Carol, she will give you a present if you speak to her on your birthday. There are three different presents available, depending on the year. She will give you either Boiled Tofu (Year 1), Tofu Steak (Year 2) or Lassi (Year 3). These gifts will continue in a set rotation every three years.[1]
References
↑ Your Birthday Gift List in Sunshine Islandsby Freyashawk
Sunshine Islands
 

Characters

Protagonists

Bachelors

Bachelorettes

Villagers

Minor Villagers

Visitors

Others
Community content is available under
CC-BY-SA
unless otherwise noted.