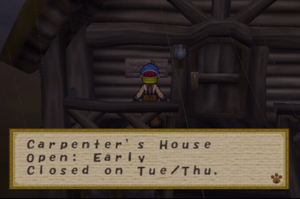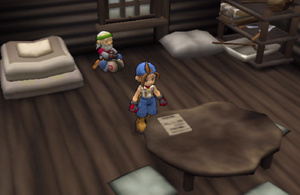 The Carpenter's House is the house and store owned by Woody in Harvest Moon: Save the Homeland.
Woody's is always open very early (usually around 7am) and usually closes around 6pm. Using the notepad on the table, the player can order a house upgrade or dog house during business hours. You are also able to sell ores that you dig up in your soil.
Woody's house is also a good place to find Woody, Gwen, Joe or Kurt if its raining. You can usually enter Woody's house very early in the day and very late into the night, even outside of business hours. You won't be able to order any work to be done on Tuesdays or Thursdays, but you will still be able to go inside if needed. 
Inventory
| Item  | Price |
| --- | --- |
| Dog House | 5000g |
| Kitchen | 10000g |
Selling Prices
| Item | Price |
| --- | --- |
| Blue Rock | 90g |
| Copper Ore | 40g |
| Iron Ore | 60g |
| Limestone | 40g |
| Rare Metal | 180g |
Community content is available under
CC-BY-SA
unless otherwise noted.