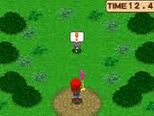 This article could be cleaned up to make it easier to read.

Event Calendar

Summer 18
Type - Pet
Reward - Wonderful or Wonderful Pieces
Intro
This pet event features the mini-game played with your pet cat. You wave around your stylus to get the cats attention and tap on the cat when it comes close enough to you.
Time ranges

1st - 18~20
2nd - 20~23
3rd - 23~26
4rd - 26+
Tips

Start with wide strokes, ignore the fact that the cat isn't looking at you
Cat only interested at you for a few seconds, practice and you'll get the hang of the timing.
Use smaller strokes as your cat approaches its jumping point
When its almost at the jumping point you should be targeting the area where it is going to jump from

If you are using wide strokes before it jumps you are most likely not able to make it jump towards you.

The jumping point is usually just slightly below where the count down text text appears on the screen.
It is possible to win first place with as low as 3 hearts on your cat. Although might take a few tries.
Sunshine Islands
 

Characters

Protagonists

Bachelors

Bachelorettes

Villagers

Minor Villagers

Visitors

Others
Community content is available under
CC-BY-SA
unless otherwise noted.