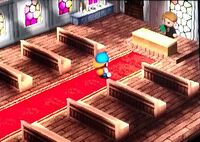 The Church is a location in Harvest Moon: Back to Nature.
Carter is the Pastor of the Church (it is also his home). He helps to comfort people, like Cliff, who have lost their way. He also looks after Stu and May most days of the week.
On the 3rd day of Fall, the Music Festival is held at the Church. It is also used for other activities, such as weddings, funerals, and confessions. Carter will perform the wedding ceremonies. Any animal on the farm who dies will be buried outside of the church. Carter will say a few goodbyes to your animal, and Rick will also attend, scolding you for neglecting your animals. 
Confessional Box
The Confessional box is located behind the door at the back of the Church. The player can confess their sins to Carter between 1:00pm and 3:00pm. Confessing to littering will reduce the litter count (a hidden value) to 0, if the Goddess grants forgiveness (confessing does not necessarily mean the player will be forgiven).
Initially, Carter is available for confession every day, but after the May event, he will only be available on Mondays and Wednesdays.
Community content is available under
CC-BY-SA
unless otherwise noted.