Claire クレア Kurea, lit. Claire) is the name of multiple characters in Harvest Moon series.
The first Claire is the second female protagonist in the entire series. She has blonde hair and blue eyes.
The second Claire is a housewife who has a husband and son.
The third Claire is the name of Natsume's first original female protagonist in her debut game. In later games she is instead known as Sabrina. She has brown eyes and brown hair worn in a ponytail.
Appearances
Blonde Protagonist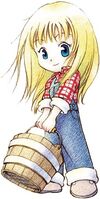 Housewife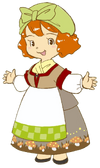 Natsume Protagonist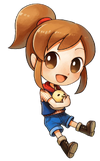 Gallery
Blond Protagonist

This article is a disambiguation page - a list of articles with the same name.
Community content is available under
CC-BY-SA
unless otherwise noted.