"Antoinette's father. His wife lives in the city."
―In Game Description
Claude (エーリッヒ Ērihhi, lit. Erich) is a character in Harvest Moon DS: Grand Bazaar.
Claude is Antoinette's father. Claude lives in Zephyr Town, but works in the city, so he is often gone all day. Working in town forces him to leave Antoinette home alone, which causes her to feel lonely at times. He loves his daughter very much, however, and will ask that you befriend her. If you befriend Claude, he will give you tips about how to befriend Antoinette. His wife also works and lives in town, but she never comes to Zephyr Town to visit.
Claude is in the city for the majority of the day, but returns in the evening. He has the weekends off, and is usually found at home or enjoying a cup of tea at the cafe. He can be seen shopping at the Winter bazaar.
He will give the player gifts if they win Festivals or get to the 'Most Shipped' Title after the Bazaar. He is also the host of the Wine Festival. If the player plans on marrying Antoinette, Claude must be befriended up to 40,000FP.
Schedule[1]
Saturday, Sunday (All Weather)
6am - 3pm
Claude's House
4pm - 9pm
Cafe
10:30pm - 12am
Claude's House
Monday, Tuesday, Wednesday, Friday (All Weather)
6am - 7:30am
Claude's House
7:30am - 9:30am
Zephyr Town
11am - 6pm
Unavailable
8pm - 10pm
Cafe
10:30pm - 12am
Claude's House
Thursdays (All Weather)
6am - 7:30am
Claude's House
7:30am - 9:30am
Zephyr Town
11am - 6pm
Unavailable
8pm - 12am
Claude's House
Saturday and Sunday (Sunny, Cloudy, Snowy)
6am - 12pm
Hotel
12:30pm - 6:30pm
Zephyr Town
9:30pm - 12am
Hotel
Bazaar Day (Spring, Summer, Fall)
6am - 12am
Claude's House
Bazaar Day (Winter)
6am - 11:30pm
Claude's House
2pm - 5pm
Bazaar
6:30pm - 12am
Claude's House
Gift Preferences
| | |
| --- | --- |
| Special | Spring Tea |
| Loved | Tea (All except Peach Tea), Caprese Salad, Vichyssoise, Bouillabaisse, Quiche, Focaccia, Ultimate Curry, Finest Curry, Supreme Curry |
| Liked | Canned Tea (All), Fall Tea Leaves, Yellow Ring, Coffee Pack, Great Fruit Yogurt, Great Herb Butter, Great Herb Mayonnaise, Great Butter, Great Mayonnaise, Fish Fossil, Citrus Perfume, Tea Perfume, Truffle, Summer Tea Leaves, Herb Perfume, Spring Tea Leaves, Flower Perfume, Blend Perfume, Blue Magic Flower, Blue Ring, Green Ring, Onion Salad, Turnip Salad, Tomato Salad, Herb Salad, Herb Soup, Potato Salad, Paprika Marinade, Macaroni Salad, Asparagus Soup, Gazpacho, Pumpkin Salad, Corn Soup, Pasta Salad, Spaghetti Soup, Radish Soup, Sautéed Turnips, Cauliflower Sauté, Sandwich, Stew, Scone, Tofu Steak, Toast, Herb Sandwich, Fruit Sandwich, French Toast, Potato Pancakes, Hash Browns, Roasted P.Mushrooms, Oil Fondue, Marinated Fish, Sushi, Omelet, Carpaccio, Tempura, Tomato Fondue, Rainbow Curry, Herb Spaghetti, Paella, Spaghetti, Pink Fondue, Fish & Chips, Penne Pasta, Meuniere, Raclette, Peach Tea, Legendary Treasure, Sea Urchin |
| Disliked | Lumber, Material Stone, Branch, Rock, Snowball, Weed, Empty Can, Fish Bone, Letter in a Bottle, Long Boots, Chestnut, Animal Medicine, Chicken Feed, Horse Treat, Baked Yam, Bamboo Dumpling, Boiled Egg, Boiled Potato, Boiled Tofu, Cabbage Rolls, Chestnut Rice, Chinese Dumpling, Cold Soba Noodles, Cold Tofu, Corn Cereal, Curry Bread, Curry Dumpling, Dashi Egg, Dried Tofu, Egg Custard, Egg Rice, Egg Rice Bowl, Fish Paste, Fish Stew, French Fries, Fried Dishes (All), Fruit Shiratama, Herb Bread, Herb Rice Porridge, Inari Sushi, Jelly Bread, Milk Rice Porridge, Milk Stew, Miso Eggplant, Miso Soup, Mixed Rice, Mushroom Rice, Okara, Okonomiyaki, Popcorn, Pot Sticker, Raisin Bread, Rice Ball, Rice Porridge, Roasted Corn, Roasted Eggplant, Seaweed Stew, Shimeji Rice, Spring Roll, Steamed Dumpling, Strawberry Sweet, Sweet Dumplings, Tempura Bowl, Tempura Soba, Tempura Udon, Toasted Rice Candy, Tofu, Udon Noodles, Vegetable Stir Fry, Yakisoba, Yuba Tofu |
| Hated | Cheese (All), Fodder, Cheese Dumpling, Failed Dish, Macaroni and Cheese |
| Horror | Cheese Fondue |
Claude's Wife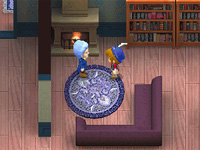 Enter Claude and Antoinette's house in between 11am and 2pm on a Saturday or Sunday. Claude is required to be at 50,000FP (7 hearts) or more.
Claude is home lost in his own thoughts. It seems that his wife had yelled at him today at work and he's still a little stirred up about it. It's not necessarily a bad thing though, he actually really loves his wife's passion! In fact, it's why he fell in love with her.
After reminiscing for a few minutes, Claude excuses himself to go and do more work.
---
Claude's Question
Enter Claude and Antoinette's house in between 9pm and midnight on a Thursday. This can only be triggered during stormy weather in the Summer season. Additionally, Claude and Antoinette must both be at 40,000FP (4 hearts or more) and Antoinette cannot be married.
References
Community content is available under
CC-BY-SA
unless otherwise noted.