Festivals in Story of Seasons: Friends of Mineral Town.
Spring
Mochi-Pounding Festival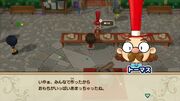 Occurs: Spring 1 (6 PM to 12 AM)
Weather: Clear
Location: Plaza
Participants: Thomas, Ran, Saibara, Elly, Mei, Yu, Dudley, Duke, Mana, Gotts, Zack, Carter
Results: 9 mochi are given if there is space, +5 with those talked with (only once)
The Mochi-Pounding Festival (もちつき大会, Mochi-Tsuki Taikai) is the first festival of the year and is held in the town plaza from 6 PM to 12 AM. The protagonist can talk to other villagers and can talk to Thomas over the table to begin the festival. After the festival, the protagonist will wake up the next morning with 9 mochi, if there is an empty slot in his or her rucksack.
Mochi-Pounding Festival Dialogue
トーマス「やぁやぁ、(主人公)くん。キミもおもちを食べにきたのかい? わたしも、おもちには目がなくってねぇ、今日はたくさん食べようと思うんだ。」

Duke:「もちって、ついつい食いすぎちまうんだよな。」

マナ「こんばんは、(主人公)さん。あなたも、おもち好きなの? わたしもねぇ、おもち好きなのよ。食べすぎると太っちゃうから、普段はひかえてるんだけどね。今日ぐらい、思いっきり食べてもいいわよねぇ。」
ダッド「もちってのは、つきたてが格別なんだよ。一度食べると病みつきになるぜ。」
ゴッツ「もちなんて久しぶりだよ。山じゃ、手に入らねぇからな。」
ザク「よぉ、おまえも食いにきたのか? 年に一回のもちつき大会だから盛大にやろうぜ。」
エリィ「おもちなんて久しぶりだわ。おばあちゃんに持って帰ってあげなきゃ。」
ラン「やったー、おもちだよ。わたし、つきたてのおもちが好きなんだ。」
メイ「わーい、おもち。おもちー。」
ユウ「つきたてのおもちってね、ぐぃーって伸びるんだよ。」
サイバラ「わしは、もちつき大会が大好きでな。毎年、来ているのだ。」
カーター「おもちっておいしいですよね。わたしも好きなんですよ。」
終了後
トーマス「いやぁ、みんなで作ったから余っちゃったねぇ。このままだともったいないね。みんなで持って帰ろう。(主人公)くん、遠慮無く持って帰ってくれ。」
「おいしかったー。おみやげももらったし今日はいい日ね。」
Spring Thanksgiving
| | |
| --- | --- |
| Doctor | 6 AM - 7 AM |
| Cliff | 8 AM - 9 AM |
| Rick | 10 AM - 11 AM |
| Gray | 2 PM - 3 PM |
| Brandon | 4 PM - 5 PM |
Occurs: Spring 14
Location: Farm
Other: Protagonist doesn't have a partner, partner candidate has at least 10000, space in rucksack
Results: Possible cookies (cookie from 10,000 and chocolate cookie from 40,000) from partner candidates and +1000 with each.
An event in which a male resident who is a candidate for partner receives a present with a sense of gratitude. If there is more than one affectionate degree, Doctor, Cliff, Rick, and Gray will come to the farm in order to give presents. Usually it is a "cookie", but if you have a love level of 5 or more, you will get a "chocolate cookie"
Spring Horse
Cooking Festival
Summer
Sea Opening
Chicken Festivals
Cow Festival
Fireworks Festival
Fall
Harvest Festival
The Harvest Festival (収穫祭, Shuukaku-sai) occurs in the town square. You can bring something edible to add to the soup.
Fluffy Festival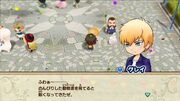 Fall 21 (10AM - 6PM)
Town Square
The Fluffy Festival (ふわふわ祭り, Fuwa Fuwa Matsuri) is a contest for animals producing wool, such as sheep, alpaca, and angora rabbit.
Participants: Mugi, Rick (SoSFoMT), Anna (SoSFoMT), Harris (SoSFoMT), Mei (SoSFoMT), Karen (SoSFoMT), Gotz (SoSFoMT), Thomas (SoSFoMT), Gray (SoSFoMT), Jeff (SoSFoMT), Jennifer (SoSFoMT)
Winter
Community content is available under
CC-BY-SA
unless otherwise noted.