Festivals in Story of Seasons: Friends of Mineral Town.
Spring
Mochi-Pounding Festival
Spring
Spring Horse
Cooking Festival
Summer
Sea Opening
Chicken Festivals
Cow Festival
Fireworks Festival
Fall
Harvest Festival
The Harvest Festival (収穫祭, Shuukaku-sai) occurs in the town square. You can bring something edible to add to the soup.
Fluffy Festival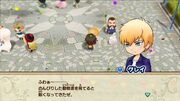 Fall 21 (10AM - 6PM)
Town Square
The Fluffy Festival (ふわふわ祭り, Fuwa Fuwa Matsuri) is a contest for animals producing wool, such as sheep, alpaca, and angora rabbit.
Participants: Mugi, Rick (SoSFoMT), Anna (SoSFoMT), Harris (SoSFoMT), Mei (SoSFoMT), Karen (SoSFoMT), Gotz (SoSFoMT), Thomas (SoSFoMT), Gray (SoSFoMT), Jeff (SoSFoMT), Jennifer (SoSFoMT)
Winter
Community content is available under
CC-BY-SA
unless otherwise noted.