Spring Festivals:
Flower Festival- Spring, 10. Takes place at Waffle square at 9:00am. You can buy flowers, perfumes etc. at different booths here.
Animal Festival-
Spring, 28. Takes place at Brownie Ranch at 9:00am. You can buy animal products and enter your animals in the contest. When
Phoebe
comes to the island you can also play the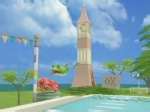 frog jumping game against her.
Summer Festivals:
Ocean Festival- Summer, 7. Takes place on the beach behind On The Hook at 9:00am. If you are married talk to your husband/wife the day before and you will go to the festival with them. If you talk to Craig he will ask you to play the stone skipping game. Pascal and Sue both have a booth that they sell things at. At the end of the night there is a Firework display.
Firefly Festival- Summer, 24th. Takes place at Carmel Falls at 7:00pm. If you are married talk to your spouse the day before and they will ask you if you want to go with them. There are no booths or Games, you just watch fireflys until 10:00pm.  You can also ask to the bachelor/bachelorette that you hope to marry to go.
Fall Festivals:
Art Festival- Fall, 12. Takes place at Waffle Square at 9:00am. Different things are sold here. (Gems, Jewelry, etc.)
Harvest Festival- Fall, 27. Takes place at Brownie Ranch at 9:00am. Different products are sold here, mostly crops. There is also a cooking competition where you can enter foods that you have cooked.
Winter Festivals:
Thanksgiving Festival- Winter, 10. If you are married your spouse gives you a flower and cake (Types vary depending on the bachelor/bachelorette) You can also give others cakes, as a sign of friendship.
Starry Night Festival- Winter, 25. Takes place at Brownie Ranch. A romantic evening with the one you love. You will go star gazing if you talk to them the day before.
New Year's Eve Festival- Winter, 28. If you are married you will automatically be awake at 10:00pm with your spouse. You will celebrate new year's with them and watch the first sunrise of the year.
All Seasons:
Flea Market- Spring-Winter, 22. It takes place at Waffle Town square. You can buy all kinds of items that vary depending on the season and year.
Note: you may want to check the items at the flea market. It will often have items needed for rainbow recipes. Some of these items are harder to get if you wait to obtain them on your own.
Community content is available under
CC-BY-SA
unless otherwise noted.