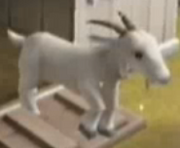 This article could be cleaned up to make it easier to read.

Purchased From: 3600G at Brownie Ranch
Age at Purchase: Kid (name for a baby goat)
Colors: White
Lifespan: Around 3 Years, eats Fodder
Happiness : Increased by being talked to, brushed, hand-fed, let outside on sunny days, and being milked
Products: Milk - Butter (With the Butter Maker) - Cheese ( With the Cheese Maker)
Product Prices :
Milk: 90G / 110G / 130G / 220G
Butter: 100G / 130G / 180G / 260G
Cheese: 170G / 210G / 290G / 420G


Breeding: Breeds with the Miracle Potion. After that you wait 7 days for a little kid, then 14 more for a fully grown goat.
Interesting Notes:
Goats are your highest profit animal if you ship its milk as cheese.
Community content is available under
CC-BY-SA
unless otherwise noted.