This article or section contains information about an unreleased video game or character.
The content may change dramatically as more information becomes available.
"I'm so-so. I feel neither good or bad."
―Grey
Gray (グレイ, Gurei) is a character in Story of Seasons: Friends of Mineral Town.
Gray is a rather angry young man who's come from the city to live in Mineral Town. He works as an apprentice blacksmith under his grandfather, Saibara. He may seem rude, but it stems from his frustration of working under Saibara, who has high expectations of Gray. He is often misunderstood, but he actually has a very sweet side if you get to know him.
When Gray is not at the Blacksmith's, he can be found at his room at Doug's Inn. When Mary comes by the Blacksmith's, Gray will be smitten by her, and from then on will be your rival in the female version, where Gray is an eligible bachelor.
Gray will never return to the city, and will continue to work hard to gain his grandfather's approval.
If we choose Gray's birthday, his birthday will be postponed to the 23rd of winter.
Bonuses to increase the love value with the order of
We can increase Gray's love indirectly by ordering things with Saibara.
Number of times to order various items The result when passing the conditions
15 times = Gray +2500 FP
25 times = Gray +2500 FP
35 times = Gray +2500 FP
45 times = Gray +2500 FP
55 times = Gray +2500 FP
Event
Heart Events
Black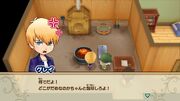 The protagonist walks in on Gray and
Saibara
in the middle of a fight.
Purple
The protagonist and Gray talk in his room.
Gray is flattered and says that he wants to become better to make you something.
Blue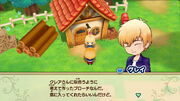 Gray comes to your house and asks if you're interested in fashion.
Gray is happy and gives you a brooch.
Rival Events
Black
Marie goes to the blacksmith. Gray gets hurt and begins bleeding, so she bandages him up.
Gifts and Other
Oh, thank you! Having friends really is a great thing. (お、サンキュー!やっぱり、持つべきものは友だちだなぁ。)
Copper, Silver, Gold, Mythril,
Oh, lucky! Keep it up. (お、ラッキー!また、なんかくれよな。)
Branch, Normal Quality Egg
Oh, thank you. (お、サンキュ。)
Moondrop, Pinkcat, Toy Flower 小魚、中魚、ぶどう、はちみつ
...I guess I'll take it, but I don't like it. (…いちおう、もらっとくけどよ俺、嫌いなんだよ。それ。)
Turnip, Junk Ore,
What's wrong with you!? Don't give me something like that! (ムカつくやつだなぁ!そんなもん、持ってくんなよ!)
Boot, Empty Can,
---
Favorite
Baked corn

Love
Ice-cream, Aquamarine, Adamantite, Apple pie, Amethyst, Alexandrite 

Earring, Emerald, Okonomiyaki, Omelette rice, Orichalcum, Garnet 

Bodijizer XL, Turbojolt XL, Carbonara, Curry Bread, Curry Rice, Gold 

Silver, Yarn X, Lotion, Sapphire, Sandrose, Sweet potato, Turquoise

Diamonds, Cheese cake, Cheese souffle, Fried Rice, Chocolate 

Copper, Topaz, Dress, Nasi goreng, Necklace, Baumkuchen, Jade 

Bibimbap, Sun Block, Pink Diamond, Face Mask, French Fries 

Pudding, Bracelet, Brooch, Period, Fluorite, Pancake, Mythril 

Moonstone, Agate, bake sweet potato, Ruby

Like
Ajillo, Apricot Tofu, Good quality Egg, Branch/Twig, X Egg, Egg benedict

Large Fish, Rice cake, Pretty Good Quality Egg, Curry Udon, Quiche

Golden egg, Ketchup, Wine, Perfume, Stew, Potato, Material stone 

Zenzai/Sweet red bean Soup, Daifuku, Fried egg, Cheese [Any size] 

cheese fondue, cheese risotto, Tsukimi Dango, Corn, Tomato 

Neapolitan, Bagna càuda, Bread, Shark Fin Soup 

Normal Quality Egg, Platinum Egg, Ball, Popcorn, Mashed potatoes 

Mayonnaise [Any size], Margherita, wood, Mountain grape water, ramen

Nature
Purple grass, Blue grass, Blue magic red, Red magic red 

Autumn Sun, Acqua pazza, Oil, Alpaca Wool [Any size] 

Angora Rabbit Wool [Any size], Strawberry, Strawberry Milk 

Strawberry Milk [Any size], Strawberry Cake, Udon, Apple [AEPFE] 

Apple [SUGDW], HMSGB Apple, Elli Grass, Sushi, Rice ball, Orangette 

Orange Venus, Sashimi rice bowl, Pumpkin, Pumpkin potage, Carpaccio 

Curry Powder, Mushroom, Mushroom Gratin, Mushrooms rice, Cabbage 

Milk [Any size]', Cucumber, Cookie, Black grass, Yarn [All sizes except sine X]' 

Coffee Milk [Any size], Small Fish, Flour, Fish fritters, Sashimi, Sweet potato 

Salad, Zaru Soba, Sandwich, White Grass, Orange Grass, Onion, Bodijizer 

Medium Fish, Churros, Chocolate Cookie, Turbojolt, Tempura, Tempura Udon 

Tempura Soba, Toy Flower, Eggplant, The mysterious slate, Summer sun 

Pineapple, Pine Juice, Paella, Butter, Honey, Eight-Treasure Vegetables 

Spring Sun, Pink Cat, Grape Juice, Raisin Bread, Winter Sun, Fruit O Le

Fruit Milk [Any size], Fruit Juice, French toast, Vegetable Pizza, Spinach 

Matsutake, Matsutake rice, Madeleine, Mandarin orange, Tangerine bread

Orange peel, Miso soup, Mix-o-re, Mixed juice, Green grass, Moon drop grass

Purple grass, grilled fish, grilled apple, Vegetables, Vegetable juice, Wild grape

Boiled egg, Wool ทุกขนาด, Relax tea leaves, Relax tea, Apple

Dislike
Red Beans, Oden, Spa-boiled Egg, Turnip, Yellow Grass

Scrap Ore, Chestnut, Chestnut rice, Cake, Spicy Sandwich 

Spicy Pepper Steak, Spicy Margherita Pizza, Spicy Fried Vegetables 

Spicy Ramen, Philosopher's Stone, Buckwheat Flour, Bamboo shoot 

Bamboo shoot rice, Dango Flour, Tinjaolose, Red Pepper, Dorayaki 

Carrot, Green Pepper, Pet Snack, Pot-au-feu, Mont Blanc, Roasted chestnuts

Hate
Red grass, Empty can, Stone, Golden Material

Pirate Treasure, Fodder, Ancient fish fossil, Fish bone

Weed, Lettered Pin, Poison Mushroom, Boots, Chicken/Rabbit Feed

---
References
Community content is available under
CC-BY-SA
unless otherwise noted.