This article or section contains information about an unreleased video game or character.
The content may change dramatically as more information becomes available.
"I'm so-so. I feel neither good or bad."
―Grey
Gray (グレイ, Gurei) is a character in Story of Seasons: Friends of Mineral Town.
Gray is a rather angry young man who's come from the city to live in Mineral Town. He works as an apprentice blacksmith under his grandfather, Saibara. He may seem rude, but it stems from his frustration of working under Saibara, who has high expectations of Gray. He is often misunderstood, but he actually has a very sweet side if you get to know him.
When Gray is not at the Blacksmith's, he can be found at his room at Doug's Inn. When Mary comes by the Blacksmith's, Gray will be smitten by her, and from then on will be your rival in the female version, where Gray is an eligible bachelor.
Gray will never return to the city, and will continue to work hard to gain his grandfather's approval.
Event
Heart Events
Black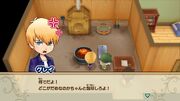 The protagonist walks in on Gray and
Saibara
in the middle of a fight.
Purple
The protagonist and Gray talk in his room.
Gray is flattered and says that he wants to become better to make you something.
Blue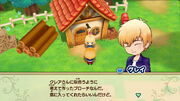 Gray comes to your house and asks if you're interested in fashion.
Gray is happy and gives you a brooch.
Rival Events
Black
Marie goes to the blacksmith. Gray gets hurt and begins bleeding, so she bandages him up.
Random Events
Gifts
Oh, thank you! Having friends really is a great thing. (お、サンキュー!やっぱり、持つべきものは友だちだなぁ。)

Copper, Silver, Gold, Mythril,
Oh, lucky! Keep it up. (お、ラッキー!また、なんかくれよな。)

Branch, Normal Quality Egg
Oh, thank you. (お、サンキュ。)

Moondrop, Pinkcat, Toy Flower 小魚、中魚、ぶどう、はちみつ
...I guess I'll take it, but I don't like it. (…いちおう、もらっとくけどよ俺、嫌いなんだよ。それ。)

Turnip, Junk Ore,
What's wrong with you!? Don't give me something like that! (ムカつくやつだなぁ!そんなもん、持ってくんなよ!)

Boot, Empty Can,
Gallery
References
Community content is available under
CC-BY-SA
unless otherwise noted.