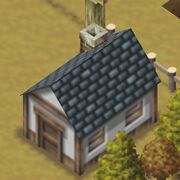 The Green Ranch is a location in Harvest Moon 64. It is owned by Doug, along with his daughter Ann and his son Gray. The shop is open from 8am until 5pm, and is closed on Thursdays.
The Green Ranch is accessed via the Crossroads by exiting to the south-west. The ranch itself contains a large, open pasture for the ranch's animals, a barn, a house and a shop. The ranch does not grow any crops, although Gray may plant a large number of Moondrop Plants in his courtship of Popuri.
The Green Ranch shop sells both animals and the bare necessities required to take care of them. Doug will also buy your animals if they are in good condition.
Animals
Doug sells three kinds of livestock: Cows, Chicken, and Sheep.
These are purchased by speaking with Doug directly over the counter. Once purchased, Doug will deliver the animal to the Farm, where it must be named. Chickens will be placed in the chicken coop, and cows and sheep will be placed in the barn. Only one animal may be bought a day.
Other Products
Aside from livestock, Doug will also sell tools and feed to help you raise your animals.
| Product | Cost |
| --- | --- |
| Animal Medicine | 1000 G |
| Miracle Potion | 3000 G |
| Fodder | 30 G |
| Chicken Feed | 10 G |
Community content is available under
CC-BY-SA
unless otherwise noted.