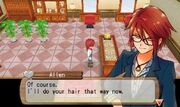 The Hair Salon is a shop owned by Allen. This is the only place where you can change your hair-style and hair color. He won't move in Echo Village if you haven't build the salon. There are 18 hair-styles you can hire Allen to make for the main character, with an additional 5 styles that unlock after you finish Town Restoration Plan #5. Allen will always have the same 17 hair color choices. The Hair Salon is open on Monday, Thursday and Friday, from 10:00 am to 6:00 pm.
Hair Color Choices
Brown
Blond
Black
Gray
Gold
Red
Orange
Light Green
Green
Dark Green
Blue
Blue Dark Blue
Purple
white
Light Blue
Pink
Lavender
Hair Style Choices
Boys

Farm Boy Style
Normal
Natural Short
Active Short
Casual
Wavy Perm
Spiked
Elite Short
Straight Short
Girls

Farm Girl Style
Short
Layered Bob
Bun
Loose Short
Medium Perm
Pigtails
Ponytail
Long
Styles After Restoration Plan #5
Wild
Samurai
Twin Tails
Long Perm
Princess
For the Long Perm style, and you are playing as a boy, you can unlock it after finishing Town Restoration Plan #5. If you are playing as a girl, you can unlock it as a result of Allen's Yellow Heart Event or once you get married to any bachelor.
The Princess hair-style will unlock after you buy the Kimono (girl version) outfit at Yuri's Tailor Shop, which becomes available at her shop when you begin Town Restoration Plan #5, and Yuri has 40,000 FP or more. The Kimono requires 25 Suffolk Yarn Ball at 3 Stars or more, 12 Great Yarn Ball at 3 stars or more, and 25 Blue Cloth. The boy version of the Kimono does not unlock the Princess hair style at Allen's Salon.
Community content is available under
CC-BY-SA
unless otherwise noted.