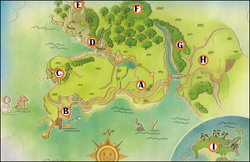 Harmonica Town is the main town in Harvest Moon: Animal Parade.
It is the hometown for many and is the major piece of the starting plot of the player's journey. The main area of Castanet is located to the west of your farm. Most of the residents living in town either run or work at one of the local shops. All the shops close on Sundays, except for the Ocarina Inn, the school and the Brass Bar.
Notable landmarks in Harmonica Town include: The Lighthouse, Harmonica Town beach, the schoolhouse, and the entrance to the Watery Cave. You can also travel to Toucan Island from Harmonica Town after you have rung the Blue Bell.
Harmonica Town also hosts the Summer Festival and New Years Eve Festival each year.
Shops
Town Hall
Hours: 8:00 AM-5:00 PM
The Town Hall is the place where you can buy your land plot. Although there is no due date for the payment of your starting plot, you cannot purchase other plots until you have paid for your home plot.
Simon's Photos
Hours: 8:00 AM - 5:00 PM
Simon's Photos is run by Simon. At Simon's Photos you can have a portrait taken for 100G by yourself, with your family, with your Mii, or with your Mii and your family. You can choose a background for your portrait and can also purchase cameras and picture frames.
Sonata Tailoring
Hours: 8:00AM - 8:00PM
Sonata Tailoring is run by Shelly. Her granddaughters Luna and Candace work with Shelly, helping to make clothes. You are able to purchase clothing and accessories at the store.
Brass Bar
Hours: 4:00 PM-1:00 AM
The Brass Bar is run by Hayden. His daughter, Kathy, helps out in the Bar, Chase cooks, and Selena performs as a dancer. Later in the evening some of the residents come here and drink.
Fishery
Hours: 6:00 AM-5:00 PM
The Fishery is run by Ozzie. His son, Paolo, and nephew, Toby, live with Ozzie. You are able to buy fish, fish dishes, and recipes in the fishery.
Ocarina Inn
Hours: 8:00 AM-10:00 PM
The Ocarina Inn is the only Inn on Castanet. Colleen and Jake run the Inn, and Yolanda and Maya work there. You can purchase dishes, drinks, and recipes there.
Choral Clinic
Hours: 8:00 AM-8:00 PM
Jin and Irene run Choral Clinic. They sell medicine and recipes to make medicine. If your character faints from exhaustion, he/she will appear in the Clinic. When your character or spouse gives birth, you will appear there.
School
Hours: 8:00 AM-5:00 PM
The children who live in Castanet will study here.
Villagers
Community content is available under
CC-BY-SA
unless otherwise noted.