This article is about Harris, a character from Harvest Moon 64. You may be looking for Harris, from his multiple other appearances throughout the series.
Harris is a character in Harvest Moon 64.
Harris serves as the local mailman for Flowerbud Village and is a good natured man. He can be found in numerous place throughout the area and talks about the weather often. He works every day except for Sunday and is one of the only people who will go out regardless of the weather or time of day. 
Harris also mentions that he was helped by the Mayor of Flowerbud Village and feels indebted to him. Harris serves as the rival for Maria and he often visits her at the local library when he is off duty. If the player doesn't marry Maria and becomes good friends with the two of them, they will get married and eventually have a child. Afterwards, he will live with Maria's family.
He competes in the swimming and egg festivals. If the player give Harris a potato, he gives the Garlic Potato Beef recipe in return.
Locations
Sunday: Library
Nights: At the Bar
Likes
Potatoes
Besides potatoes, Harris will greatly enjoy just about any gift given him; he's not very picky.
Rival Events
Gift from Harris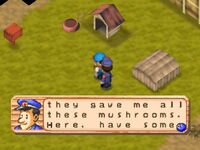 Harris will visit the player one day and give a mushroom.
---
Special Delivery
Maria will ask Harris to deliver a letter. He notices there is no address, and she says it's for him.
---
Shady Salesman
Sammy the Salesman will visit Maria and try to get her to buy beauty products to make her better looking. He pesters her until Harris tells him to leave and insists she doesn't need them, she's already beautiful.
---
Bar Talk
The player can talk to Harris to hear him talk about Maria. As the player increases affection with Harris, Harris will open up about his feelings for Maria, and will even confide in the player that he wants to marry her.
Community content is available under
CC-BY-SA
unless otherwise noted.