New Pokemon Games - The Loop
Play Sound
The Harvest Goddess (女神さま Megami-sama, lit. Great Goddess) is a recurring character type in the Harvest Moon series. She is often regarded as a spirit of sorts in the games. To see her various roles throughout Harvest Moon, see her appearances below.
First Harvest Goddess
Gaia
She makes a small cameo in Story of Seasons on a television show using the name Gaia and she also sends you a thank you letter after you befriend Dessie. Gaia in Greek mythology is ancestral mother of all life and is the primal Mother Earth goddess.
Mariel
Save the Homeland Goddesses

Marina
Minna de Bokujō Monogatari Goddesses

Sephia
Dessie
Blue Harvest Goddess
Lady Galariel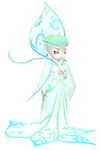 Vera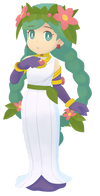 Gallery

This article is a disambiguation page - a list of articles with the same name.