Harvest Moon: Back To Nature (牧場物語~ハーベストムーン~ Bokujō Monogatari ~Hābesuto Mūn~, lit. Ranch Story ~Harvest Moon~) was the first title of the Harvest Moon series to be released on the PlayStation. The game is rated "E" by the ESRB, and is further rated as depicting use of alcohol. It was released on December 16, 1999 in Japan, on November 20, 2000 in North America, and on January 26, 2001 for PAL Regions.
Though many of the characters are taken from Harvest Moon 64, they have somewhat different personalities, families, and occupations, which led to minor controversy among fans as these altercations were carried over to Harvest Moon: DS and ultimately became the final canon of said characters. Unlike any other game that takes place in Mineral Town, it applies more 3D graphics and many features that can't be found in the Game Boy versions. 
Back to Nature and Bokujō Monogatari: Harvest Moon for Girl were both later ported to the PlayStation Portable as Harvest Moon: Boy and Girl in Japan and North America.
Plot
As typical of many of the Harvest Moon titles, you come to inherit a farm after your grandfather's passing. However, in this game, it has been decided by the residents of Mineral Town that you can only inherit the farm if you restore it to its former glory and fit in with the townsfolk within three years.
At the end of the three year time period, Mayor Thomas will come and view your progress, similar to how the player's father evaluated Pete at the end of the third year in Harvest Moon 64. If the farm's condition is acceptable at the end of the third year, the player will be able to keep playing.
Gameplay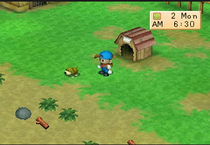 The Mayor of Mineral Town asks you to enter a name, a date of birth of the player's choice, and to name your dog and your farm. On your farm, you're allotted a sizable amount of land for planting crops, flowers, and/or grass. In addition, you have a coop for the chickens, a barn for cows and sheep, a horse stable, a fish pond and an apple tree in addition to your tiny farmhouse.

It is your goal to work the land and care for livestock, just as in any other Harvest Moon games. At first, you are given a hoe, a sickle, a hammer, and an axe in order to clear up and work the debris-cluttered land. Later on, you can upgrade your tools and obtain more in order to do tasks more efficiently.

Aside from farming, you are also expected to interact with the townsfolk and have a family. Talk to villagers, give them gifts they like (especially on their birthdays), and learn more about them with the myriad of events you can come across during the course of the game. There are several events that need to be witnessed with bachelorettes in order to marry them as well. 
Marriage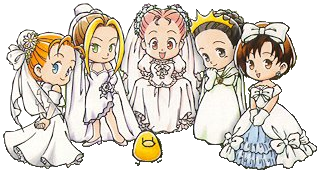 Besides restoring your farm to its former glory, you should get married sometime during the game as well. Out of the five young ladies in town, you can eventually find one you want to marry.

In order to get married, you have to expand your home twice, raise her heart level to red, and purchase a Blue Feather (either from Jeff's shop or from Won at a ridiculous price). Then you can propose, and if you're lucky, you'll be married after a week.

Bachelorettes In order to woo a girl, you must give her gifts that she likes. Her heart level, represented by the heart underneath the portrait you see of her while she's speaking, ranges from Black (acquaintances) to Red (love).

As you get to know the girls more, you will get to see several events in which you have to answer questions she might ask you. Answer them correctly, and she'll come to like you even more. Also, give her gifts she likes. Each girl has different tastes, but jewelry, though expensive, makes a great gift as well.
Children
After about a season of marriage, the player's wife will mention that she is not feeling well. Take her to clinic. Once there, the protagonist will find out that she is pregnant. After another two seasons, their son will be born. However, the son will stop growing when it starts to walk.
Rivals
Wooing a girl is not exactly easy. Every girl has another guy who's interested in them as well. If you don't marry any one of the girls, one of these guys will marry her instead.
See also
Trivia
This is one of the few Harvest Moon games to allow players to give more than one gift per day to increase the NPC's friendship and love points.
Many characters are from Harvest Moon 64, however, Doctor, Pastor Carter and Won (not counting the Harvest Sprites) are the only unique characters.
Interestingly, the farm was once known to be a great farm, where many chickens were shown in flashback. However, when the player acquires the farm, none of the barns are upgraded.
The red mail box located between the Supermarket and Hospital serves no purpose and acts as a decoration. However, unlike other decoration in the game, the mailbox can be interacted with the text "mother and father?" It is unknown what its purpose is, but it is believed it was planned for an event.

In the girl version, the text says "Where is this place?"
Through hacking, an unused "mail" sprite is seen. This may reinforce that the red mail box may have originally had a role in the game.

Zack's house is the only house in the entire game that cannot be entered.
Around the time this game was released, a famous rumor occurred where if all the bachelorettes were married, a girl named Elizabeth would move into town.
In Winter 30, you can watch the television and watch the Weather Forecast. The Weather Forecaster will say "Expect a comfortable balmy winter day."
In Spring, the Harvest Sprites have a Tea Party but you can make them work for you by talking to them five times.
The young girl from Pete's flashbacks will be the bachelorette whom he is married will be revealed in the very end of the game.
If Pete marries Elli, she will quit her job in the clinic. But she will still work in the clinic in Harvest Moon: Friends of Mineral Town.
Interestingly, if Pete is married to Mary, Gray will still come to the library to read. His dialogue will be the same before Mary got married.
If Pete marries Mary, she will still work in the library but only on Sundays (because she will be at home from Mondays to Saturdays).
Ann will remain single forever if Cliff leaves town (if the player does not give him the job in Aja Winery).
Popuri will not leave Mineral Town if she is married to Pete and will allow him to access the second floor in her house.
Games in the Harvest Moon & Story of Seasons Franchise
 

Natsume Original Games

Main

Related