Arcane: League of Legends - The Loop
Play Sound
Harvest Moon: One World is a game by Natsume for the Nintendo Switch and PlayStation 4. It is the fifth game to be created solely by Natsume.
The game was announced by Natsume during a press release on May 12, 2020, by showing the game's logo. Box art was shown 16 days later on May 28.
Plot
After the disappearance of the Harvest Goddess, the world is stuck without many crops; such as cabbage, tomatoes, and carrots. However, before the Harvest Goddess disappeared from this world, she imbued the Harvest Wisps with the knowledge of various seeds, thus ensuring the various fruits and vegetables of the world would not be lost forever. Using the power given to these Harvest Wisps, you'll need to unlock various seeds as you progress through the game! But this will be a tricky task, as the Harvest Wisps need to be found and all appear at different times and places.
You will be able to travel around the world on your journey to find the Harvest Wisps. You'll ride camels across the deserts of Pastilla, venture deep into the snowy mountains of Salmiakki, and even visit a volcano near the cozy mountain town of Lebkuchen!
Gameplay
Marriage
Merchandise
Preorder Plush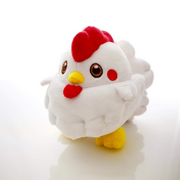 Limited Edition Box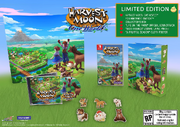 Contains:
CD Soundtrack
cloth poster
lapel pins
Art box
Collectors edition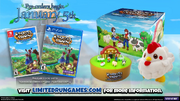 Contains:
Harvest Moon Chicken Plush
Magnetic Musical Diorama Set
Display Box
See also
Harvest Moon: One World
 

Characters

Protagonists

Villagers

Minor Characters

Harvest Sprites
Games in the Harvest Moon & Story of Seasons Franchise