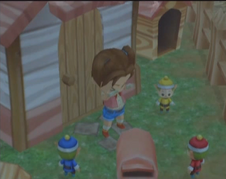 The Harvest Sprites in
Harvest Moon: Magical Melody
play a key role in reviving the
Harvest Goddess
. The three Harvest Sprites that talk to the main character are
Arthur
who is in red,
Billy
who wears blue, and
Carlos
who dons yellow.
Since the Goddess has turned into stone a year ago, the Sprites have been trying to find the musical notes that will help to heal the Goddess. Neither they nor Jamie have had much luck in finding the missing notes, so the sprites will ask for your assistance when you arrive on your farm.
The sprites are not available to hire for help around the farm. Their only role is in the game's main story. For every five notes the character collects, they can be turned into a musical instrument when brought to the Spring.
Other Information
The four of the Harvest Sprites that play the music that revives the Harvest Goddess are loosely modeled after the very popular musical band '
The Beatles
'
Community content is available under
CC-BY-SA
unless otherwise noted.