Komari (コマリ Komari) is a character in Story of Seasons: Trio of Towns. She is one of the eligible bachelorettes to court.
She works by attracting customers into the tea house. Always bright with a smile on her face, she has a frank personality. When she was young, she would sword fight with boys. Because of this, she tends to have crude interactions with customers. Recently, she's been wanting to become more girly. [1]
Flower Events
Flower Heart Event
Komari the Cheerleader (コマリのおうえん, Komari no Ouen) is Komari's white heart event.
Affection
5001
Visit
-
Other
Seen "To Tsuyukusa"
Have won 2 festivals
Days
Tuesday, Wednesday
State
Free
Weather
Clear, Rain, Clear
Time
6.00 - 21.00
Location
From farm to crossroad
Pass
30 Minutes
Choices
+1000 FP with Komari
+500 FP with Ginjiro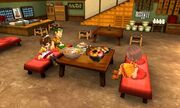 Komari and Ginjiro hold a feast for the protagonist to celebrate his or her accomplishments.
Purple Flower Event
Everybody Needs a Hobby (夢中になれるもの, Muchuu ni Nareru Mono) is Komari's purple heart event.
Affection
10001
Visit
ー
Other
ー
Days
Any
State
Free
Weather
Clear (All Towns)
Time
6.00 - 15.00
Location
Tsuyukusa: From south to north
Pass
1 Hour
Choices
+1000 FP with Komari
Gifts
,
Gifts
Special
+1000 FP
"N/A"
JA/USA


Turtle Stew

EU
Okonomiyaki

Loved
+500 FP
"N/A"
Wasabi, Rice (processed - you can buy this from Ittetsu), Pumpkin Salad, Sweet Potato Rice, White Rice, Sekihan Rice, Eggs Over Rice, Sea Urchin Rice Bowl, Shiso Onigiri, Uzume Rice
Liked
+300 FP
"N/A"
Sweet Potato, Pumpkin, Matsutake, Common Mushroom, Truffle, Banana, Mango, red fabrics, Soy Milk, Tapioca, Tofu, Banana Jam, Mango Jam, Ume Plum, Mugwort, Flowering Fern, Horsetail, Great Butterbur, Rice Porridge, Tea Rice Porridge, Herb Rice Porridge, Chestnut Rice, Octopus Rice, Tomato Juice, Tomato Salad
Neutral
+50 FP
"N/A"
N/A
Disliked
-300 FP
"N/A"
N/A
Hated
-500 FP
"N/A"
N/A
Horror
-1000 FP
"N/A"
Yogurt Rice
Trivia

References
↑

茶屋で働く看板娘。いつも笑顔で明るく、さばさばした性格。小さい頃は男の子とちゃんばらで遊んでいたほど活発だったため、お客さんががさつに対応仕勝ち。最近、女の子らしくなりたいと少し思っている。
Community content is available under
CC-BY-SA
unless otherwise noted.