"Isaac and Nellie's daughter. A shy introvert. Cindy's twin sister."
―In Game Description
Lauren (ララミー Raramī, lit. Laramie) is a character in Harvest Moon DS: Grand Bazaar.
She is the shy, laid-back daughter of Wilbur and Nellie. She is also the twin sister of Cindy. She is usually dragged around by Cindy, and is the quiet and more reserved of the two sisters. To tell her and Cindy apart, Lauren wears turquoise, and Cindy wears red.
The twins are never seen apart, and go to various areas in Zephyr Town together. On Fridays, they receive homeschooling from Ivan. Unlike her sister, she seems to excel in all of her studies and is a very good student.
Schedule[1]
Sunday, Monday, Tuesday, Saturday (Sunny, Cloudy, Snowy)
6am - 8am
At Home
8am - 11:30am
Zephyr Town
11:30am - 5:30pm
Hotel
5:30pm - 12am
At Home
Friday (Sunny, Cloudy, Snowy)
6am - 1pm
At Home
1pm - 6pm
Zephyr Town
6pm - 12am
At Home

Wednesday, Thursday (Racetrack NOT unlocked)

6am - 8am
At Home
9am - 5:30pm
Waterfall Area
6:30pm - 12am
At Home

Wednesday, Thursday (Racetrack IS unlocked)

6am - 8am
At Home
9:30am - 5:30pm
Racetrack
7pm - 12am
At Home
All Week (Rainy)
6am - 12am
At Home
Bazaar Day (Spring, Summer)
6am - 12am
At Home
Bazaar Day (Fall, Winter)
6am - 1:30pm
At Home
3:30pm - 6:30pm
Bazaar
9pm - 12am
At Home
Gift Preferences
| | |
| --- | --- |
| Special | Yam Dessert |
| Loved | Great Fruit Yogurt, Great Yogurt, Milk (All), Great Wool, Quiche, Pot Sticker, Croquette, Cream Croquette, Chestnut Rice, Boiled Potato, Cheese Croquette, Cheese Dumpling, Chinese Dumpling, French Fries, Hash Browns, Fried Potato, Baked Yam, Omelet, Omelet Rice, Curry Dumpling, Curry Rice, Sushi Bowl, Galette, Milk Curry, Milk Stew, Gratin, Baumkuchen, Stew, Tempura, Seaweed Curry, Paella, Pizza, Focaccia, Pies (All), Puddings (All), Cakes (All except Choco. Party Cake and Party Cake), Cookies (All), Chocolate Banana, Chocolate Fondue, Churro, Donut, Egg Tart, Fruit Shiratama, Ice Cream, Kurikinton, Mont Blanc, Pancake, Stewed Apples, Strawberry Sweet, Trifle |
| Liked | Accessories (All), Gems (All except Agate), Fluorite, Chamomile, Lavender, Mint, Perfumes (All), Chocolate, Pink Brooch, Blue Magic Flower, Toy Flower, Wool, Good Wool, Yogurt (All except Great Yogurts), Pet Food, Horse Treat, Fireflies (All), Spaghetti Soup, Egg Soup, Curry Bread, Mushroom Rice, Corn Cereal, Sandwich, Finest Curry, Shimeji Rice, Jelly Bread, Steamed Dumpling, Scone, Dashi Egg, Toast, Herb Sandwich, Herb Bread, Butter Roll, Spring Roll, Fish & Chips, Raisin Bread, Fruit Sandwich, French Toast, Popcorn, Steamed Bread, Roasted Corn, Inari Sushi, Oil Fondue, Okonomiyaki, Marinated Fish, Sushi, Carpaccio, Fish Stew, Cold Soba Noodles, Mixed Rice, Egg Rice, Egg Rice Bowl, Cheese Fondue, Tempura Soba, Tempura Bowl, Tomato Fondue, Dry Curry, Doria, Rainbow Curry, Supreme Curry, Ultimate Curry, Herb Spaghetti, Spaghetti, Pink Fondue, Penne Pasta, Macaroni & Cheese, Meuniere, Grilled Fish, Yakisoba, Fried Rice, Raclette, Risotto, Bamboo Dumpling, Choco. Party Cake, Sweet Dumpling, Party Cake, Toasted Rice Candy, Royal Milk Tea, Café au Lait, White Bread, Bread, Hot Milk, Milk Tea |
| Neutral | Items not listed. |
| Disliked | Branch, Lumber, Material Stone, Rock, Small Coin, Snowball, Weed, Empty Can, Fish Fossil, Fish Bone, Long Boots, Animal Medicine, Chicken Feed, Fodder, Adamantite, Copper, Silver, Gold, Orichalcum, Scrap Metal, Coins (All), Chestnut, Honeycomb, Pickled Vegetables (All except Picked Potato), Tofu, Boiled Tofu, Cold Tofu, Fried Tofu, Tofu Steak, Chop Suey, Fried Okara, Okara, Miso Eggplant, Mixed Salad, Roasted Eggplant, Soy Milk, Vegetable Curry, Yuba Tofu |
| Hated | Frogs (All), Fish (All), Poison Mushroom, Herb Rice Porridge, Milk Rice Porridge, Rice Porridge, Seaweed Stew, Failed Dish, Spicy Curry, Vegetable Stir Fry |
| Horror | Carrot |
Daisy's Advice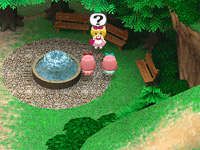 Walk from Zephyr Town to the Hotel in between 4:15pm and 5pm on a Monday or Tuesday with good weather. Daisy must be at 60,000FP or more and cannot be married.
You will see Cindy, Lauren and Daisy. Cindy asks Daisy if she would know about what kind of gift to give to a boy she likes. Daisy says that it's best to get to know a guy first before buying him a present.
She suggests making something since it's more personal that way. Her final piece of advice is to watch the boy's facial expression when he receives the gift to see if he really likes it or not. Both girls thanks Daisy for her advice.
---
Isaac's Weight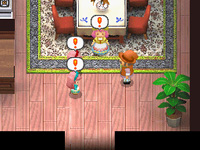 Go to Isaac and Nellie's house in between 8:30pm and 9:15pm on a Monday or Tuesday with good weather. Isaac must be at 40,000FP or more.
Isaac is sitting at home with his family. He wants to ask them a serious question about how they feel about his weight. Cindy blurts out that she thinks her dad is overweight. After hearing this, Isaac feels determined to lose weight.
However, Isaac doesn't know how to go about losing weight. Isaac likes to eat and doesn't want to eat any less! Nellie tells her husband that she likes him how he is, regardless of his weight. He is slightly comforted by this, but it still doesn't solve the problem.
---
Math Problems
On a Friday between 10am and noon, go to the second floor of Nellie and Isaac's house. Cindy, Lauren and Ivan must all be at 30,000FP (4 hearts) or more.
Ivan is trying to teach the girls a math lesson. Cindy seems to be struggling, but Lauren is having no problem at all. To Cindy's dismay, Ivan says that there will be a math test next time he comes over to teach.
Cindy asks if there's really a need for them to write a test. Ivan tells Cindy that she can't avoid things in life just because she doesn't like them. To motivate Cindy, Ivan tells her that he will grant her one (reasonable) wish if she does well on her math test. News of this excites Cindy who is now determined to do well her upcoming test.
---
The Math Test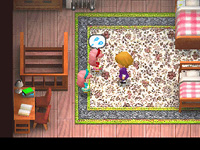 On a Friday between 10am and noon, go to the second floor of Nellie and Isaac's house. Cindy, Lauren and Ivan must all be at 50,000FP (7 hearts) or more. Additionally, you must have seen the previous event.
Cindy and Lauren have just taken their math test. After marking them, Ivan tells Cindy that she got a perfect score! Cindy excitedly tells Ivan that her wish is for him to take her out on a date. Cindy becomes embarrassed after Ivan doesn't respond. She tries instead to ask him what kind of girls he likes.
Ivan responds that he likes smart and hard working girls his own age. Cindy tells Ivan that she will be the smartest girl that he knows when she gets to be his age.
References
Community content is available under
CC-BY-SA
unless otherwise noted.