A Lumber is a material for upgrading the farm buildings in Harvest Moon: Back To Nature. 
A Lumber is a material for upgrading your own House, Chicken Coop and Barn. It can be also use for building a Hothouse. 
To obtain a Lumber, you can split stumps and branch using your own Axe. There are also specific locations of the tree stumps around the map:
5 Tree Stumps around Gotz's House
2 Tree Stumps at the Hot Spring
2 Tree Stumps at the Base of the Mother's HIll
Also, at the start of the Game, you can see many tree stumps and branches at the farm so you can also chop and split the stumps there but you can't be able to bring it back. By fishing, you can also get a Branch. A branch may also give you a lumber and cannot be dispose in the Garbage Can at the Rose Square.
There is also another kind of Lumber which is the Golden Lumber. It can be acquired by offering 20 crops to the Harvest Goddess. Unfortunately, the Golden Lumber will not go to your rucksack and you cannot use this because it will be automatically sold to Gotz for 1,000 G only.
Uses of the Lumber
There are many uses of the Lumbers such as building a fence and putting it into your Fireplace.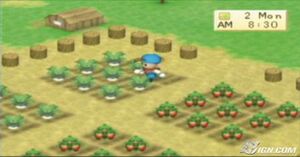 Building a Fence
Making a Fence needs hardwork and caring. By sticking the lumber to the Fields will make it into a fence. A fence is used for making a style and beautify your farm or protecting your animals when you pasturize them from the attack of the Stray Dog.
The Fence may broke when a Stray Dog attacks and during snowy and rainy days. Not just that, also, Hurricanes and Snowstorms may also break a Fence. When a fence is broken, you can't pick it up on the ground so you should use a Hammer to bust the broken fence apart. After busting the fence, it's yours if you want to replace it or not, just to beautify your farm or protect your animals. So it's hard to take care of the Fence.
Upgrading your Buildings
When Upgrading buildings, you will be needing a certain amount of Lumbers to hire Gotz to work. If you don't have enough Lumbers and tired enough of splitting stumps, you can just buy Lumbers to Gotz for 50 G a piece. It may be too much for you. With the lumber, you can upgrade your house twice and upgrade your barn and chicken coop and build a hothouse.
Since there are many upragrades, you should just split many stumps instead wasting your money. 
Fireplace
After having the final extension of your house, in your bedroom, you can find a Fireplace. You can throw a Lumber to it to make a fire. This will help you to relieve your fatigue but you can only do this in Winter.
Community content is available under
CC-BY-SA
unless otherwise noted.