This article is about Maria, a character from Magical Melody. You may be looking for Maria in other appearances throughout the series.
Maria (マリア, Maria) is one of the marriage candidates in Harvest Moon: Magical Melody.
Maria is the daughter of Mayor Theodore, and works as a receptionist at the Library. You will be unable to meet Maria until the Library opens on the 10th day of Spring. She's serious, and seems to be quite religious (often making references to the Harvest Goddess).
She has an artistic side to her, but also loves nature and animals. She is always happy to see visitors to the Library. Books change in Spring and Fall, and you can obtain a musical note if you read every book at the Library.
Locations
Inside the Library.
Inside the Mayor's house.
Around the Square.
Gift Preferences
| | |
| --- | --- |
| Loved | Pickled Cabbage, Eggplant, Boiled Spinach, Stewed Yam |
| Liked | Cabbage, Sashimi, Stewed Potato, Stewed Eggplant, Moondrop Flower |
| Neutral | Coral, Perfume, Pinkcat Flower, Very Berry Jam, Cheesecake, Strawberry Jam, Boiled Egg, Honey Mushroom |
| Disliked | Weeds, Toadstool, Garbage |
Heart Events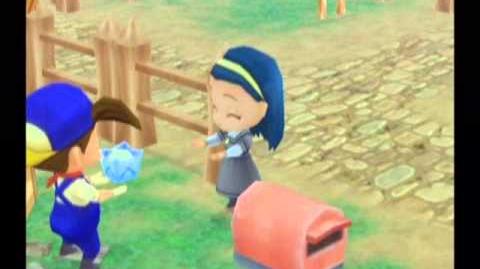 2-Heart Gift
Maria will come to your front door as you leave in the morning (regardless of which gender you play as) when she reaches two hearts.
Maria will give you pickled cabbages, and you will also get the "Talented Girl" note.
---
5-Heart Gift
Maria will bring a second gift to your door when she reaches 5 hearts, if you are playing as a male character.
Maria will knock on your door in the morning as you leave and will give you some pickled vegetables.
Wedding
After meeting all the of the marriage requirements and receiving your Blue Feather, the player will be able to propose.
Whichever character you're proposing to must have a minimum of 8 hearts. If they accept your Blue Feather, the wedding will take place the following day (unless the following day is a festival). The wedding will take up one full day.
Rival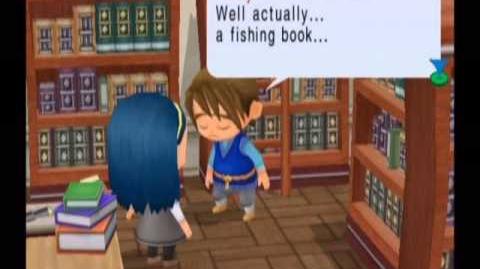 In Harvest Moon: Magical Melody, each bachelor and bachelorette can be paired off to what is considered as the main character's rival.  
Each rival couple has one heart event between them, but they will never marry. You must have 4 hearts with your rival (the person of the same gender), and the marriage candidate must have less than 4 hearts.
Your rival for Maria is Ray. Their event will take place when you walk into the Library.
Musical Note
Maria provides you with the 83rd musical note, "Talented Girl", when she brings you a gift for building her friendship level up to 2 hearts.
Note Description:
A young lady who loves nature and enjoys reading and art. She looks good in her prim clothes.
Magical Melody
 

Characters

Protagonists

Bachelors

Bachelorettes

Villagers

Others
Community content is available under
CC-BY-SA
unless otherwise noted.