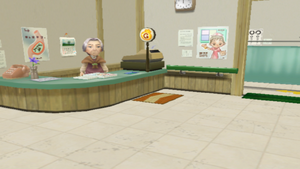 The Meringue Clinic is the local pharmacy and doctor's office of Waffle Island in Harvest Moon: Tree of Tranquility. It is located near the center of Waffle Town, between the General Store and Tailor Shop.
The local doctor is Jin, and Irene is the pharmacist. Anissa can also be seen here sometimes on her days off. The Meringue Clinic is basically where you can buy medicine, and it is where you will wake up if you overwork yourself and pass out. You or your spouse will also give birth here.
It is open from 8AM - 5PM every day of the week except Monday, and it is also closed during festivals and events. A part-time job is available, and you can take it by speaking to Irene. You will be expected to work until closing time, which is 5PM.
Shop Inventory
The Meringue Clinic offers a variety of stamina-recovering goods and other medicines.
| Item | Price |
| --- | --- |
| Herbal Tea | 105G |
| Bodigizer | 300G |
| Cold Medicine | 450G |
| Stay Awake | 375G |
| Vegetable Juice | 420G |
| Bodigizer XL | 525G |
| Super Stay Awake | 525G |
Community content is available under
CC-BY-SA
unless otherwise noted.