Line 21:
Line 21:
 

Nina is a cheerful, sweet, and bubbly kind of girl. She is appreciative of and has a soft spot for people who love plants and flowers as much as her. Nina finds it difficult to find the negative in anything, and she will always be smiling.

 

Nina is a cheerful, sweet, and bubbly kind of girl. She is appreciative of and has a soft spot for people who love plants and flowers as much as her. Nina finds it difficult to find the negative in anything, and she will always be smiling.

 
 
−

She lives with her mother, [[Liz (MM)|Liz]] at Spring Farm. Her Father passed away, and Nina is determined to work hard on the farm that was left for her. When not inside the shop, she can be found outside in the fields, or in the shed. She rarely leaves the property and is easy to find. 

+

She lives with her mother, [[Liz (MM)|Liz]] at Spring Farm. Her Father , and Nina is determined to work hard on the farm that was left for her. When not inside the shop, she can be found outside in the fields, or in the shed. She rarely leaves the property and is easy to find. 

 
 
 

=='''Locations'''==

 

=='''Locations'''==
---
Revision as of 15:59, 18 January 2015

Nina is one of the available bachelorettes that you can marry in Harvest Moon: Magical Melody.
Nina is a cheerful, sweet, and bubbly kind of girl. She is appreciative of and has a soft spot for people who love plants and flowers as much as her. Nina finds it difficult to find the negative in anything, and she will always be smiling.
She lives with her mother, Liz at Spring Farm. Her Father died, and Nina is determined to work hard on the farm that was left for her. When not inside the shop, she can be found outside in the fields, or in the shed. She rarely leaves the property and is easy to find. 
Locations
Inside the Spring Farm shop.
Inside the Spring Farm shed.
Outside in the Spring Farm planting field.
Inside Cafe Callaway.
Outside at Sunny Lake.
Gifts
Gift Preferences
| | |
| --- | --- |
| Loved | Fertilized Strawberry, Strawberry Milk, Strawberry Jam, Blue Mist Flower, Herb Tea, Orange Juice, Baked Chest Nut |
| Liked | Cheese, Mayonnaise, Limestone, Milk, Tomato, Corn, Hot Milk, Red Herb, Good/Special Egg, Topaz, Aquamarine, Spinach, All Flowers |
| Disliked | Soda (All), Bell Pepper, Carrot, Crawfish, Halibut, Mackerel |
Heart Lines
0 hearts: "If there's something you don't know about raising crops, look at the manual."
1 heart: "The taste of your own grown vegetables is special, isn't it?"
2 hearts: "Actually, I want to grow flowers. But even shipping them doesn't bring in much money."
3 hearts: "Growing a crop takes a lot of time, but it feels so rewarding finally at harvest."
4 hearts: "Spring to Fall is a busy time, but winter is pretty free."
5 hearts: "My dad died five years ago. This farm is something he left me, so I want to take good care of it."
6 hearts: "My dad named the farm Spring Farm! I want to be sure to inherit not just the name, but also my dad's passion."
7 hearts: "Wherever you go in the world I think there are many beautiful places. But for me the most beautiful place is Flowerbud Village."
8 hearts: "___, is there a person you like? Oh, sorry. Uh, you see, I was curious..."
9-10 hearts: "Say, ___, are you going to be here for good? Will you stay in Flowerbud Village? You won't go off somewhere, will you?"
Proposal line: What...is that? is that... a proposal? ... Yes. I loved you, ___ all along too. I'm happy. ❤
After Marriage: "Good morning! It's a pleasure. By the way, what should I call you? Got it. ___ ❤"
After child is born: I think ___, looks a lot like you. I think our child is wonderful!
In the Cafe: "I love things like cake with vegetables in it! The natural sweetness is good, isn't it?"
Rainy Day: "We can kick back on rainy days since we don't have to water!"
Morning: "Good morning!"
Afternoon: "Hello!"
Evening:  "Good evening!"
Farewell: "See ya!"
Heart Events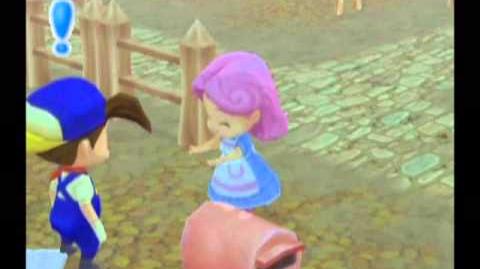 2-Heart Gift
Nina will come to your door as you leave in the morning (regardless of which gender you're playing as) when she reaches two hearts.
She will give you a pot of honey as a gift, and you will also get the "Flower Girl" note.
---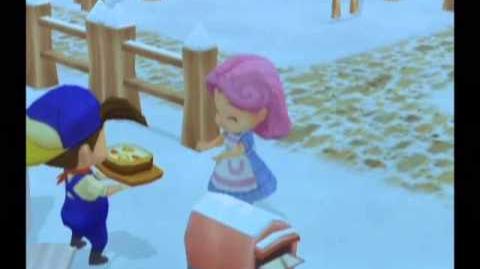 5-Heart Gift
Nina's second gift will come at 5 hearts, if you are playing as a male character and she has five hearts or more.
Nina will knock on your door in the morning and give you a pot of homemade Stew.
---
Wedding
After meeting all the of the marriage requirements and receiving your Blue Feather, the player will be able to propose.
Whichever character you're proposing to must have a minimum of 8 hearts. If they accept your Blue Feather, the wedding will take place the following day (unless the following day is a festival). The wedding will take up one full day.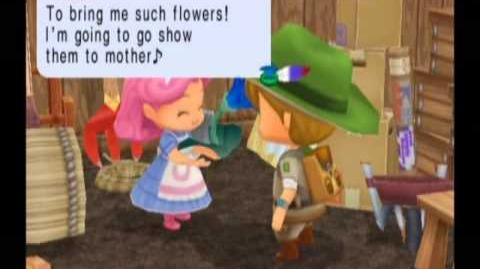 Rival
In Harvest Moon: Magical Melody, each bachelor and bachelorette can be paired off to what is considered as the main character's rival.  
Each rival couple has one heart event between them, but they will never marry. You must have 4 hearts with your rival (the person of the same gender), and the marriage candidate must have less than 4 hearts.
Your rival for Nina is Basil. Basil and Nina's will take place in the shed at Spring Farm. You must enter shed on a day when Spring Farm is open.
Musical Note
Triggering Nina's 2-heart gift event provides you with the 93rd musical note "Flower Girl"
Note Description:
A farm girl with a love for bright petals. Her smile as bright and cheerful as the flowers is dazzling.
Magical Melody
 Characters

Protagonists

Bachelors

Bachelorettes

Villagers

Others
Community content is available under
CC-BY-SA
unless otherwise noted.