Noby is a main character in Doraemon: Story of Seasons.
《スポーツは苦手で,勉強は好きじゃない。性格はドジでなまけものだが,人の心の痛みがわかり,自然を大切にする,やさしいハートの持ち主。本作では,牧場主として畑を耕したり動物のお世話をしたりする。》
(He is bad at sport and does not like to studying. Has a gentle personality, but he can understand other person pain and values nature. He cultivated the farm and taking care of the livestock.)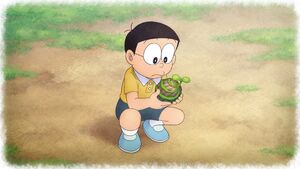 Community content is available under
CC-BY-SA
unless otherwise noted.