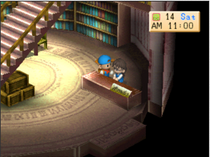 The Spring Thanksgiving Festival is an annual event in Harvest Moon: Back to Nature. It is held on 14th of Spring, between 6:00 am and 5:00 pm.
The Spring Thanksgiving Festival is a day "to give cookies to girls to show your appreciation." Similarly, in Winter, girls give chocolates to boys during the Winter Thanksgiving Festival. Cookies can be player-made through Cooking. It should be noted that Cookies purchased at the Inn cannot be used for this festival as they are automatically consumed upon purchase.
Community content is available under
CC-BY-SA
unless otherwise noted.