Roblox: DeepWoken - The Loop
Play Sound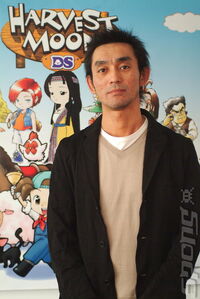 Yasuhiro Wada (和田康宏 Wada Yasuhiro) is a Japanese video game designer and director, best known as the creator of Bokujō Monogatari (牧場物語 Bokujō Monogatari, lit. Ranch Story) series, or Story of Seasons (formerly known as Harvest Moon) outside Japan.
He has been following and a part of the games industry for over 20 years, and was an executive producer at Marvelous Entertainment (now Marvelous) until 2010. He worked at Grasshopper Manufacture for about a year and left the company as well, and recently, he has formed a new company on his own, called Toybox Inc.
Inspiration for Bokujō Monogatari
The idea for a farmwork-simulation game came to him when he first moved to Tokyo from the countryside where he grew up in. Noticing the difference between the city and country, he realized that there are a lot of values and elements of the countryside that deserve appreciation, and this became an inspiration for him, and the basic idea of what eventually became Harvest Moon.
Works
Bokujō Monogatari / Harvest Moon
Other Works
Valhalla Knights
Rune Factory: A Fantasy Harvest Moon
No More Heroes
Valhalla Knights 2
Rune Factory: Frontier
Little King's Story
Sakura Note
PostPet DS
Deadly Premonition
HomeTown Story